Like last year's Quartro, the Solera came in its own coffin and looks just as good. A nice firm bunch and a silky smooth wrapper speak to the quality of construction. Heavy cocoa notes from the wrapper and foot with leather from the perfect cold draw. Paired with a Stone Bitter Chocolate Oatmeal Stout, I may approach cocoa overload.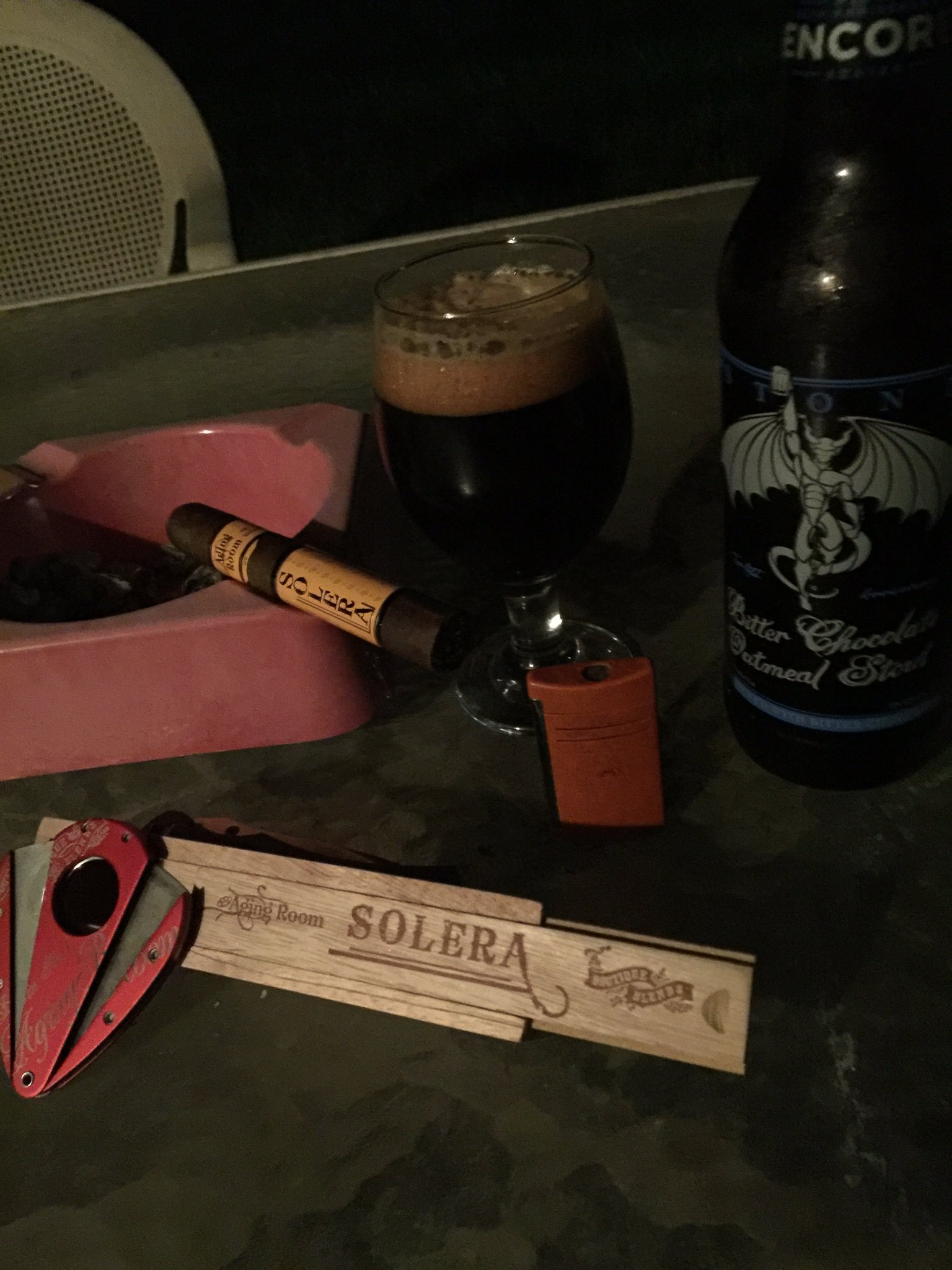 Initial draw is full of smooth leather notes with a hint of cocoa in the background. The beer is everything it claims to be; bitter chocolate and very stout.
A nice full mouth of smoke from every draw belies how slowly the cigar is burning; and the ash is very firm and the burn is very clean.
The Solera is turning into quite the smoke; light pepper notes in the throat. At 1/3 it's smoking beautifully although I got overconfident with the ash and ended up with an inch and a half in my lap.
The burn remains very clean and the smoke is very smooth with some pepper remaining but mostly leather and fine tobacco. It's a very full bodied smoke, so it's holding up nicely to the stout beer.
At about half, a sweetness is developing, although slight; still, more complex flavors make for a better cigar. By 2/3 it has settled into a very solid smoke. The burn is perfect, the smoke is smooth and the flavors are spot-on.
Down to the last inch the cigar remains a solid cigar with great flavor and complexity. This doesn't happen often, but I can't detect any flaws so I am giving it 10/10. Rafael Nodal does it again. Joe Bob says check it out!
__________________
El Gringo permanence...
El perro, el perro, es mi corazon.
El gato, el gato, el gato no es bueno.
El Jefe es cantante,
El Jefe es muy famoso
El Jefe es el hombre con el queso del diablo.
El perro, el perro, nunca sin raison
El gato, el gato, el gato es obseno
El Jefe es caliente, El Jefe es carinoso
El Jefe le da besos mejor que su esposo
What Would TOJE Do? Þ £